Visit Lone Star Stories, a webzine of speculative fiction and poetry (published from 2004-2009) here.

PRAISE FOR LONE STAR STORIES:
"[A] consistently interesting source of science fiction, fantasy, and dark fantasy prose and poetry."--Ellen Datlow, The Year's Best Fantasy and Horror 2008
"A consistently intelligent source for beautifully weird and weirdly beautiful fiction, which has only been gathering momentum over the last year."--Jeff VanderMeer, 2008
The Lone Star Stories Reader, an anthology of fantastic and strange fiction selected from the works published in the first 25 issues of Lone Star Stories, is now available as a trade paperback.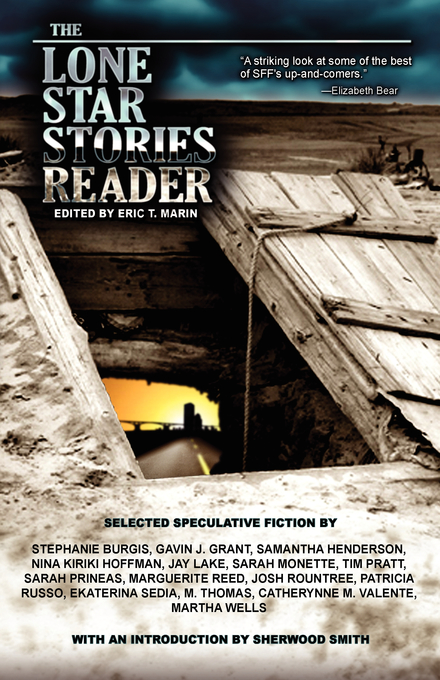 The Lone Star Stories Reader table of contents is as follows:

Introduction by Sherwood Smith
"Wolf Night" by Martha Wells
"Seasonal Work" by Nina Kiriki Hoffman
"'Janet, Meet Bob'" by Gavin J. Grant
"The Great Conviction of Tia Inez" by M. Thomas
"Angels of a Desert Heaven" by Marguerite Reed
"The Disemboweler" by Ekaterina Sedia
"A Night in Electric Squidland" by Sarah Monette
"Thread: A Triptych" by Catherynne M. Valente
"The Frozen One" by Tim Pratt
"Dragon Hunt" by Sarah Prineas
"Manuscript Found Written in the Paw Prints of a Stoat" by Samantha Henderson
"Giant" by Stephanie Burgis
"When the Rain Comes" by Josh Rountree
"The Hangman Isn't Hanging" by Jay Lake
"The Oracle Opens One Eye" by Patricia Russo

PRAISE FOR THE LONE STAR STORIES READER:
"In addition to presenting short work by a few established authors, this anthology provides a stunning overview of some of speculative fiction's bright new voices. The table of contents comprises a veritable who's-who of gifted and artful short story writers that--in a few years--will read more like a list of the genre's breakout stars. Think of this as your chance to become one of the people who knew about them when."--Elizabeth Bear
"With the rich range of fiction here--some of it simply exquisite--this is an excellent sampler of the field in general, never mind the magazine."--Hal Duncan
"These fifteen stories are testaments to fantasy's strength: its ability to imaginatively redefine the limitations of reality, to become transformative."--Sherwood Smith
"From both established talents like Nina Kiriki Hoffman and relative newcomers like Marguerite Reed, these stories offer a wide enough range to keep the reader fumbling to find some commonality other than editor Marin's excellent taste. Hoffman's contribution, the short and sweet "Seasonal Work," is the holiday retail season seen through a very strange lens--the kind of thing she does so well. Reed's gorgeous "Angels of a Desert Heaven" is the story of a musician and a Hopi seer and the ways the gods of their shared desert home adopt even the Anglo, if the need is great enough. Despite the book's title, the stories don't have any Texas connections, though several take place in various Western settings. Title and stories come from the Web zine Lone Star Stories, where the latter are electronically archived. At any rate, this selection suggests that LSS is a force to be reckoned with."--Booklist
"15 fantasy stories from the first 25 issues of webzine Lone Star Stories . . . the gems really shine."--Publishers Weekly
An Adobe Acrobat version of the print edition (without cover art) may be downloaded here. If you enjoy the electronic version, please spread the word about the anthology and Lone Star Stories in general.

© 2008 LSS Press. All rights reserved.